Information about Corona virus
Tuesday, March 24th 2020
Dear patients,
thank you so much for your excellent cooperation: You helped us taking care of your requests without the need to present yourself in person. You indirectly safe lives because the pandemic advances much more slowly. This keeps more ressources available in hospitals to take care of critcally ill patients.
We have cancelled our vacation from April 14th to 18th so we will be available for you.
Sunday, March 22nd 2020
Dear patients,
our unusual situation will last for longer. This is also due to the hesitating reaction in Germany: France had been ahead of us regarding infections 10 days ago, but - thanks to strict measures (partial curfew) - has a third less infections than us now.
Thus my estimation of last Sunday is inadequate now. I had expected us to be at least as good as the Chinese and Koreans. This has been a fallacy that should set us thinking.
To protect all of us I will adapt proceedings in the practice to ensure a safe medical care.
Avoiding a presentation in person in the practice is of utmost importance, hence those rules apply:
Appointments 5 or 10 min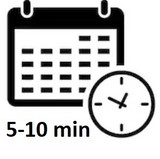 To have as little people as possible in the practice, consultation hours without appointments will be cancelled and substituted by appointments lasting 5 or 10 minutes to keep you just as long as absolutely necessary in the "infection zone". Please arrange an appointment ahead using Signal, e-mail oder the telephone.
Saturday, March 21st 2020
Transmission path of Corona
The virus is spread from person to person by little drops floating in the air especially after coughing and sneezing. It is not yet known whether it is transmissed via objects around us (see NIH: Corona on surfaces).
Get rid of the virus: Wash your hands
After being in public places please wash your hands for at least 20 seconds. Avoid touching your eyes, nose and mouth with unwashed hands. Keep a distance of 1,5-2 meters (5-6 ft) to other people to avoid a transmission.
Stay at home
Please leave your home only for the most necessary things, primarily to buy food. If home office is possible, it is strongly recommend to use it. If we stayed at home for the next 14 days the epidemic would be strongly pushed back or even stopped, just as in China, possibly also in Korea.
Sick? Stay at home and recover.
Especially now it is crucial to stay at home when you are sick - regardless of whether it is a Corona infection or not: Those days and weeks it is important to recover as quickly as possible and build up a strong immune system. Please do it for yourself but also for others.
Wednesday, March 18th 2020, 5 pm
Dear patients,
please encourage all people around you to stick to recommendations as closely as possible and reduce their personal contacts as much as possible. This way we can win time: We have the chance to find medicine to effectively treat patients.
Worldwide at least seven substances are being investigated in trials. First data are quite promising. Some of those subtances are known for years so side effects are also known and controllable. Results should be available as soon as April, so it is within reach.
This might be a motivation for many people around you to act responsibly and reduce contacts.
Please keep the emergency call 112 free for medical emergencies like heart attacks, shortness of breath, strokes and severe injuries. In Corona matters please contact your family doctor.
Wednesday, March 18th 2020, 10 am
Dear patients,
at the moment you will find a lot of false information in social and other media. For example there are rumours that certain groups of medication (I will intentionally not name them) will cause you to have a more severe infection with Corona.
There is no evidence for these claims. Anyway, in such a short time it is scientifically improbable to gain results of this kind.

Therefore I recommend to do the following:
- Be sceptic about information in social media.
- Check the source.
If you find an information that seems untrue to you and might cause a damage to health and also society, you can contact me.
The German Society of Infectiology recommends more strict measures to contain the epidemic:
Recommendation German Society of Infectiology
Regards
Hedro Lahdo
Tuesday, March 17th 2020
Dear patients,

actual measures to contain the Corona virus in Germany didn't show the necessary effect: The number of infections quadrupled within one week.

What is urgently needed now is an adaptation to the new situation. Mentally we should all switch to protection mode now. After talking to two very good friends at Mainz university (infectiology) and Frankfurt university (internal medicine) and observation of the situation I recommend to stay at home for the next two weeks for everyone who can to so (e.g. home office).
Contacts should be reduced to a minimum; the house should be left only to buy most necessary things like food.

The older and the more seriously you are ill, the more you should stick to avoiding contacts. As soon as Germany will have a curfew (there is one in France), everyone else should follow the same recommendations.

My practice will stay open for emergencies (acute illness), also in case of a curfew as long as I'm allowed to keep working. Routine visits and appointments will be cancelled until the end of March. I hope that we will be able to have normal conditions again in April.

Until then I'm ready to answer your questions daily including weekends (via Signal, Threema, Telegram and Email).

Germany has only few severe cases of Corona (17 deceased, 1 out of 500 infected dies). Nevertheless we should not risk a situation as in Italy (27980 infected, 2158 deceased, 1 out of 13 dies).
To avoid too much worries we should now take strict measures to be able to return as quickly as possible to normal life.

Half-hearted measures as closing restaurants at 6 pm and not completely are not sufficient from my point of view: Either you do it right or you don't do it at all. Therefore please reduce the contacts and thereby the risk of infection to a minimum.

Information is crucial in such a situation. A prognosis is extremely difficult. Based on data, infection rate and change of the latter my guess is that the maximum of the virus spread will be around the end of March, and the number of infected people could be up to 20.000. This is just a rough guess to give you at least a little orientation where we are, so please don't take it as a precise prediction.
Nevertheless I believe this is better than to leave you in a limbo, knowing "nothing" at all since it's practically impossible to find reliable data.

There is no sense in acting out of fear, it would only deteriorate the situation. I appeal to your common sense. We need stark measures now, but the virus will also disappear, probably in May. And a vaccine is being developed for the next epidemic just as we have this with influenza.

PRACTICE VISITS:
I recommend to reduce those to the absolute minimum. You better write to us first via e-mail or signal messenger to know if you should come by or not. This way we can also decide whether you need to go to a hospital, a Corona testing enter or to come to my practice.

PRESCRIPTIONS:
We will send your prescription orders to a pharmacy of your choice, just let us know. This way you can avoid a visit in our practice.

Last not least a psychological advice: You will probably spend a lot of time at home. Please don't watch TV all the time: Once or twice a day information about Corona is sufficient. This is not the plague, and it doesn't help the cause but intensifies negative emotions.

It makes more sense to keep yourself busy with entirely different things: Better watch a movie or read a book.

In doubt just contact me.

Best regards
Hedro Lahdo